Selling mostly new or almost new layerable coordinates: tops, skirts, dresses, and shoes including clunky boots.
Some tops plus size friendly.
Shipping from the US, zipcode 96744.
Paypal preferred payment option, fees paid by buyer.
Feel free to ask any questions as needed.
Other sales here. (Goth, punk, visual kei, steampunk, gyaru, lolita, cosplay, etc.)




One World Boho Top :: $25
Size XL, new with tag
Bust: 44"+



[back] [detail]
Charlotte Russe Vest Top :: $60
closes with hook and eye strip down the front
Size small, bust up to 32" max




[x][x][x][x][x][x][x]
Moda International Romantic Poet Top :: $30
Sized small, fits best 2x+
New but has some minor stains from being pulled off the line by a puppy
One small hole bottom left front and one small hole on the lower frill in the back.
Bust: 48"
Waist: 56"
Length: 28"
Sleeve from shoulder :: 24"



Lace/Chiffon Peasant Blouse :: $25
Size S, gently worn a few times, super stretchy
Color is black on black and lace all over
Bust :: 71-90cm
Waist :: 64-90cm
Length :: 50cm



Le Chateau Peasant Blouse :: $8
Size M, gently worn
B 29", W28", L 12"
.


Black Ruffle Blouse :: $27
Size L, new but has been washed
Has ruffles, lace, and pintucks on front
Bust: 40"
Waist: 38"
Length: 23.5"
Sleeve 24" from shoulder



Mori-Girl Shiro Top :: $6
Size S, new with cut tag



Fruits Flower Lace Top :: $25
Size M, new



[x][x][x][x][x][x]
White Ruffle Blouse: $30
New with tag, no size
Orange marks by each button, bottom button has a chip
Right side pintucks have been sewn over on the right
Threads coming loose at collar and need to be resewn
All flaws are production and blouse is as received

Bust: 84cm
Waist: 78cm
Length: 52cm




[x]
Three Pink Hearts Cutsew :: $35
New, size Large
Bust: 80-98cm
Waist: 76-92cm
Length: 52-63cm (stretchy straps)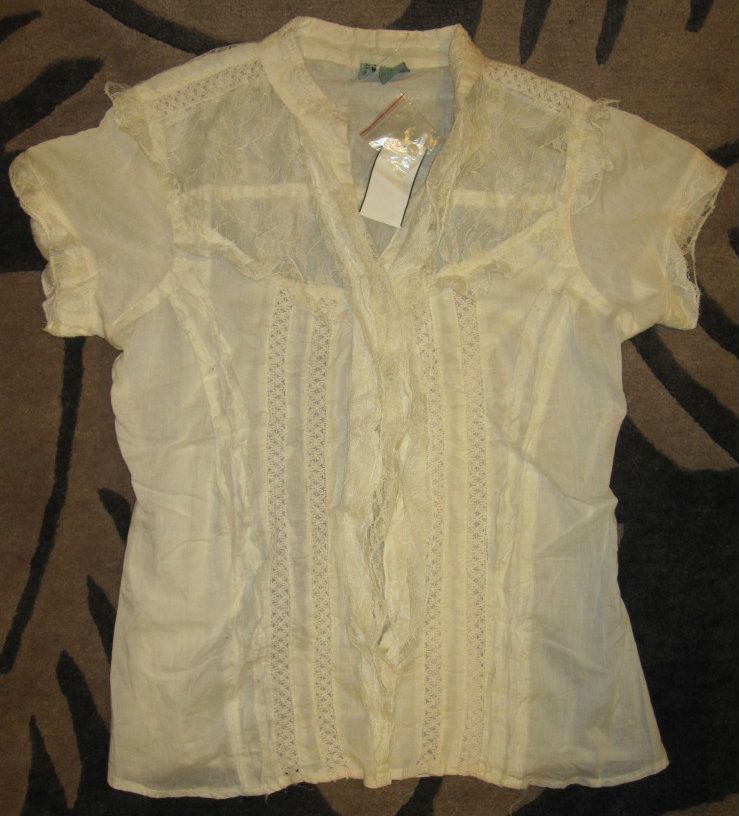 [x][x]
LOVEPOTION Blouse :: $35
Size L, new with tags
Bust: 100 cm
Waist: 96cm
Length: 67cm



[x][x][x][x][x]
Chiffon/Lace Sailor Blouse: $45
Size 8, gently worn, lightly padded shoulders
Has some minor stains from age, most hidden under the sailor collar or not noticeable
One loop on the chemical lace has broken during attempt to wash
Bust: 106cm
Length: 76cm
Sleeve: 54cm



White eyelet broderie anglaise lace skirt :: $15
lined in the top portion, but the last ruffle is not
Size XXL
Waist: 39"
Length: 25.5"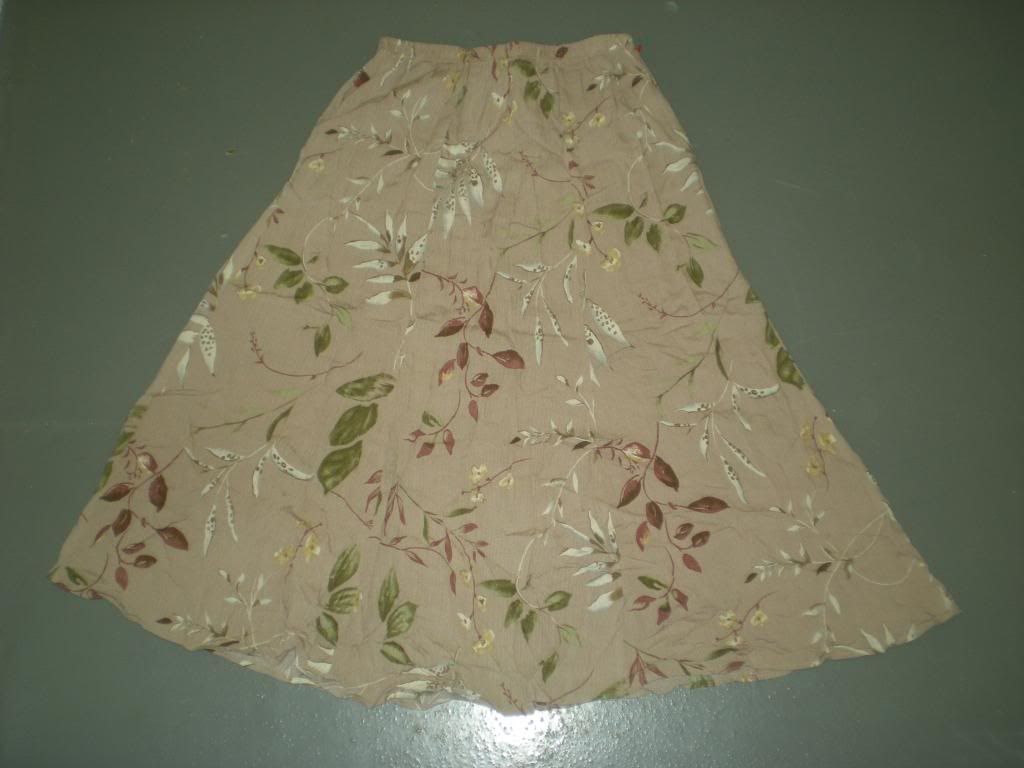 Boho Mori-girl Earthy Leaf-printed Skirt :: $13
Waist: 29" -34"
Length: 36"




Silvery Witchy Skirt :: $75
Size L, silky crotcheted details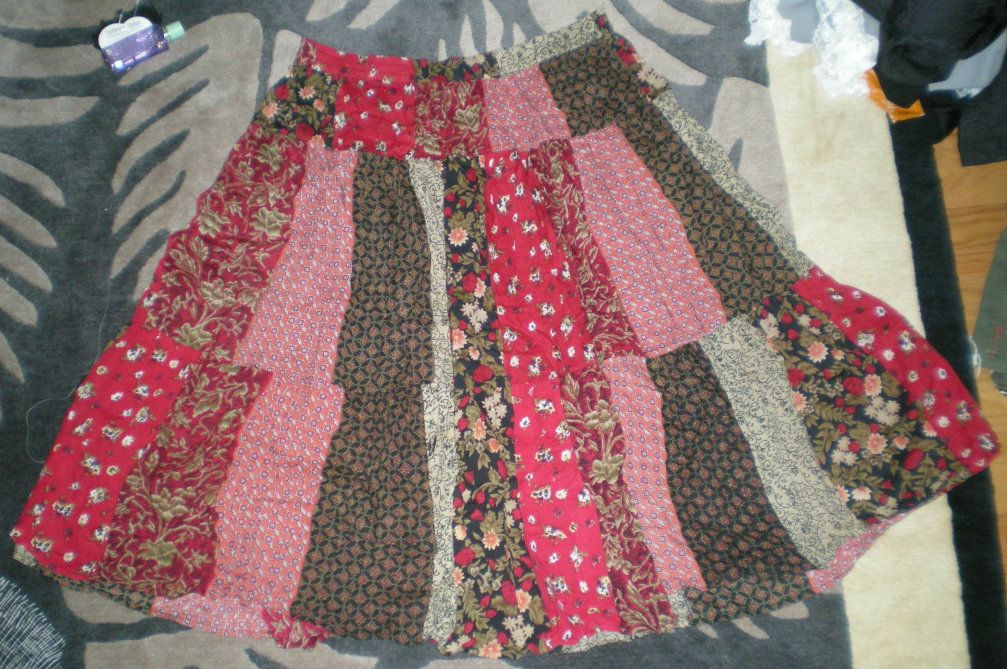 Sag Harbor Red Patchwork Long Skirt: $40
Size XL, gently worn
Waist: 38"-48"
Length: 33"




In Moda Beige Frames Chiffon Skirt: $25
Size XL, new with tag
Waist: 30"-39"
Length: 26"



Black Cotton/Lace Skirt: $40
Size L (12/14), new
Skirt is all black, including lace
Waist: 89cm-120cm
Length: 69cm (to end of lace)




Boho Patchwork Pattern Summer Dress :: $20
Soft and lightweight, SIZE 10US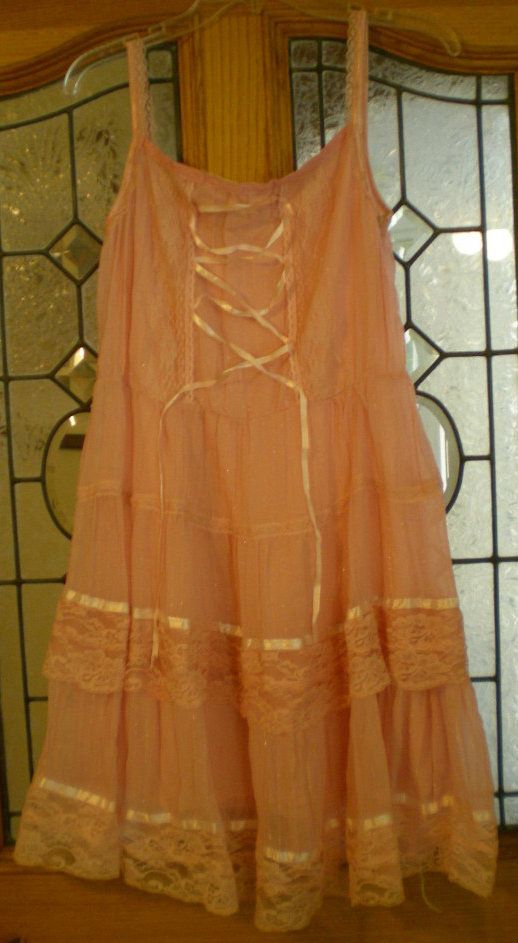 [x][x][x][x]
Pink Chiffon Dress :: $65
Free Size, new
Bust: 34"-38"
Waist: 34"
Length: 37"

[x][x][x]
Beige Chiffon Dress :: $60
Free Size, new
Bust: 30"
Waist: Free
Length: 40"




[x][x][x][x][x][x]
Beige Chiffon Fairy Ruffle OP
Free Size, best fit petite frame
Truest color is in detail photos, has silver stripes
Bust: ~36"
Waist: free


Chiffon Black Dress :: $45
Size 6



Black Silk Tunic :: $10
Bust: 33"-38"
Waist: 28"-34"
Hips: free
Transparent and can be worn as a tunic or dress



[detail 1] [detail 2]
Country Fruits Knit Sweater :: $85 shipped US
New, Size M



Camel Sweater :: $20
Size Small



[x][x][x]
Cranberry Cardigan: $25
Size , gently worn
Missing 3 buttons (buttons are all red)
Has two minor stains not really noticeable, color is a dark cranberry
Bust: 114cm-140cm
Length: 66cm
Sleeve: 54cm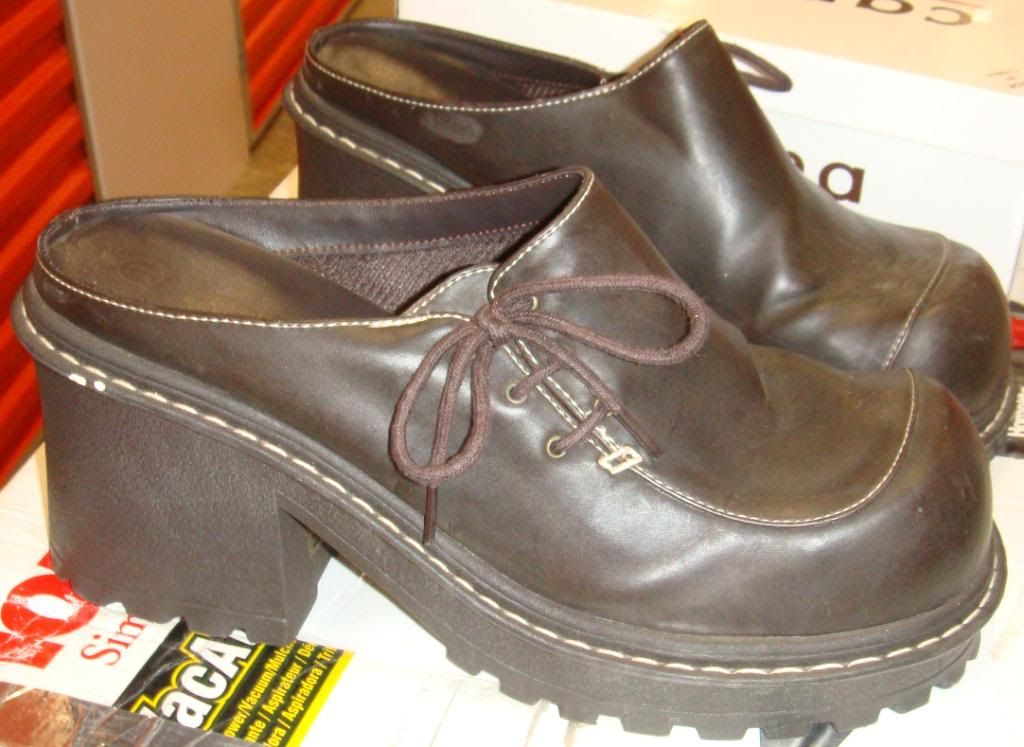 [front] [bottom]
Lower East Side Schoolgirl Boot Clogs :: $30
Size 11 womens, fits 9/10 with comfort
Worn a few times, almost like new



Tommy Hilfiger Velvet Maryjanes :: $25
Size 8.5W
All rubber sole, about 2 inch heel
Worn about 2x



[front] [mildew]
No Boundaries Lug Sole Boots :: $30
Size 9 womens, mildew from unusual humidity and can be cleaned

More shoes listed here.




Lace Headbands: $10 each
Bow Headband: $3


All other sales listed here.